National League club Macclesfield Town would be playing hosts to three former Premier League stars, according to reports.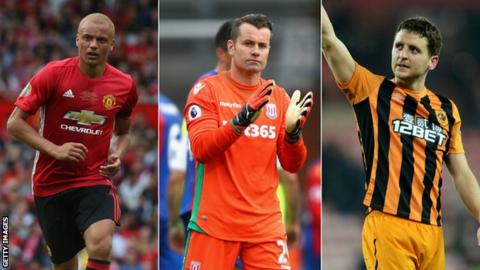 The players Shay Given, Wes Brown and Alex Bruce want to use the opportunity to stay fit and get coaching experience with the Silkmen during the pre-season.
Former Ireland international Given started with Celtic but he has featured for Blackburn, Sunderland, Newcastle United, Manchester City and Aston Villa. He is a free agent now so he wants to retain his fitness by joining the Macclesfield Town stars. The fact that he once worked with the assistant manager Steve Watson might have helped. Given is reportedly taking sessions with the keepers, helping develop after leaving Stoke City.
The 32-year old Bruce wants to retain top shape by working out with the lads. He is doing his coaching badge as well. He was let go by Hull City so he wants a fresh challenge.
Former Manchester United and Three Lions defender Brown was let go as well by Blackburn. The 37-year old free agent was linked with several sides but none came to fruition. Crewe Alex were had Wes on their shortlist of summer targets but assistant manager Kenny Lunt says their interest has cooled as the player failed to meet with them.
Crewe wanted the five-time Premier League winner despite his relatively advanced age as they felt they could benefit from his vast experiences. His recurrent injury concerns probably helped Wes decide to end active footballing.
The three live close to the club so it was probably easier to make the decision.